Did you know Sint Maarten – Saint Martin has some unique diving sites to explore. If you like to visit the underwater-world check out Dive Sint Maarten in Philipsburg.
Owner Willem Dekker is a retired Dutch Marine that has lived in the Caribbean for over 40 years. As a marine he was stationed in the Caribbean but soon decided he never wanted to leave. After his carreer as a Marine he owned and operated the radio station Dolfijn FM in Curacao for many years, before moving to SXM 19 years ago.
Willem has a passion for horses and so started at Lucky Stables and the bay side riding club (now
Seaside Nature Park
). He also operated as a Boat captain for parasailing and Octopus diving in Philipsburg before deciding to take over the dive company
Under a new name "
Dive Sint Maarten
", Willem and his team took the challenge upon themselves to become one of islands finest Dive centers. Operating from Philipsburg they take people on Diving excursions at many of the great dive sites in SXM. They are also certified for diving or refreshment courses to teach you everything from A to Z to go in the water safe and secure. More recently,  Dive Sint Maarten developed a separate team that assisted in salvage diving and wreck cleaning in the lagoon for the NRPB.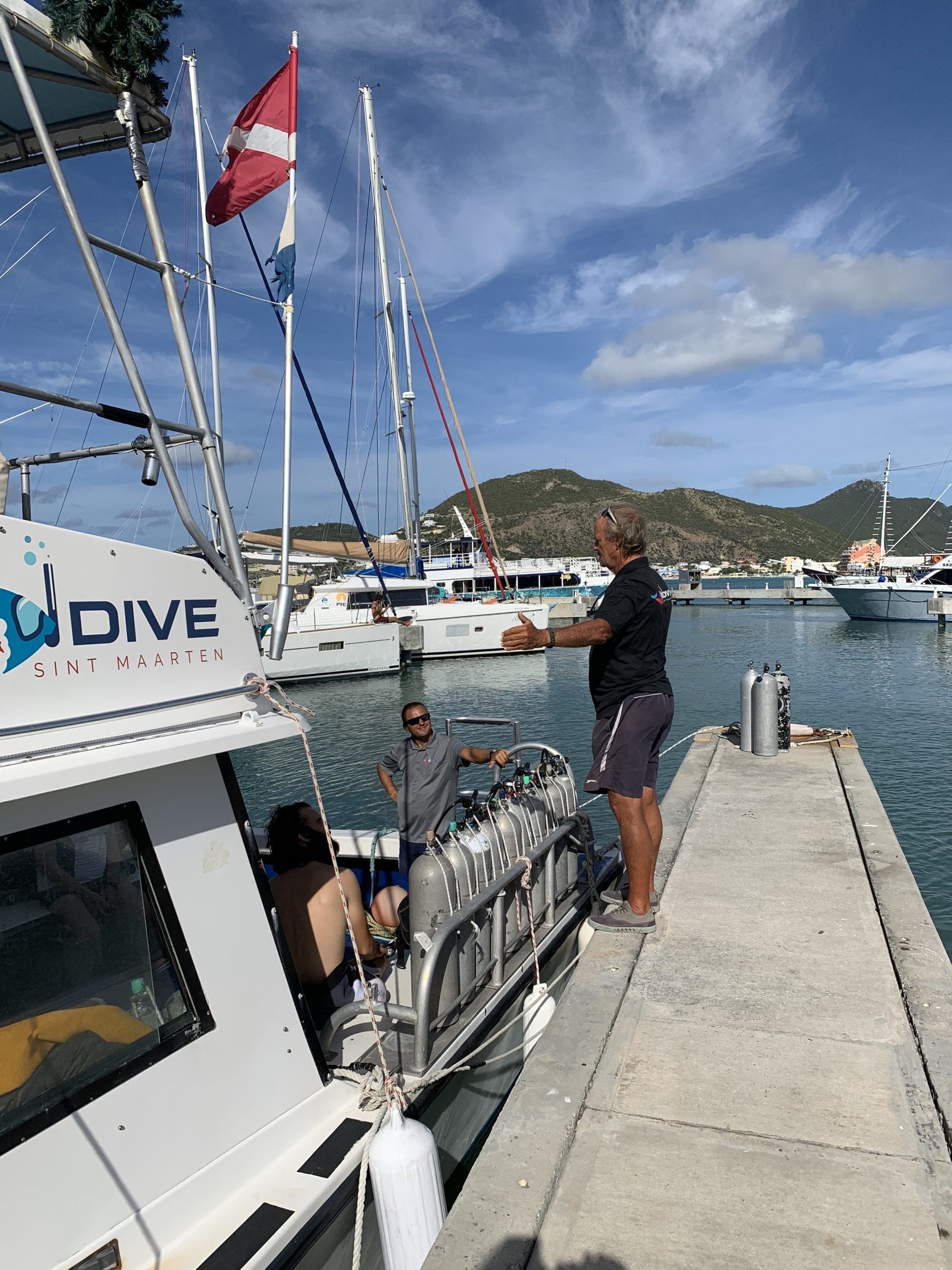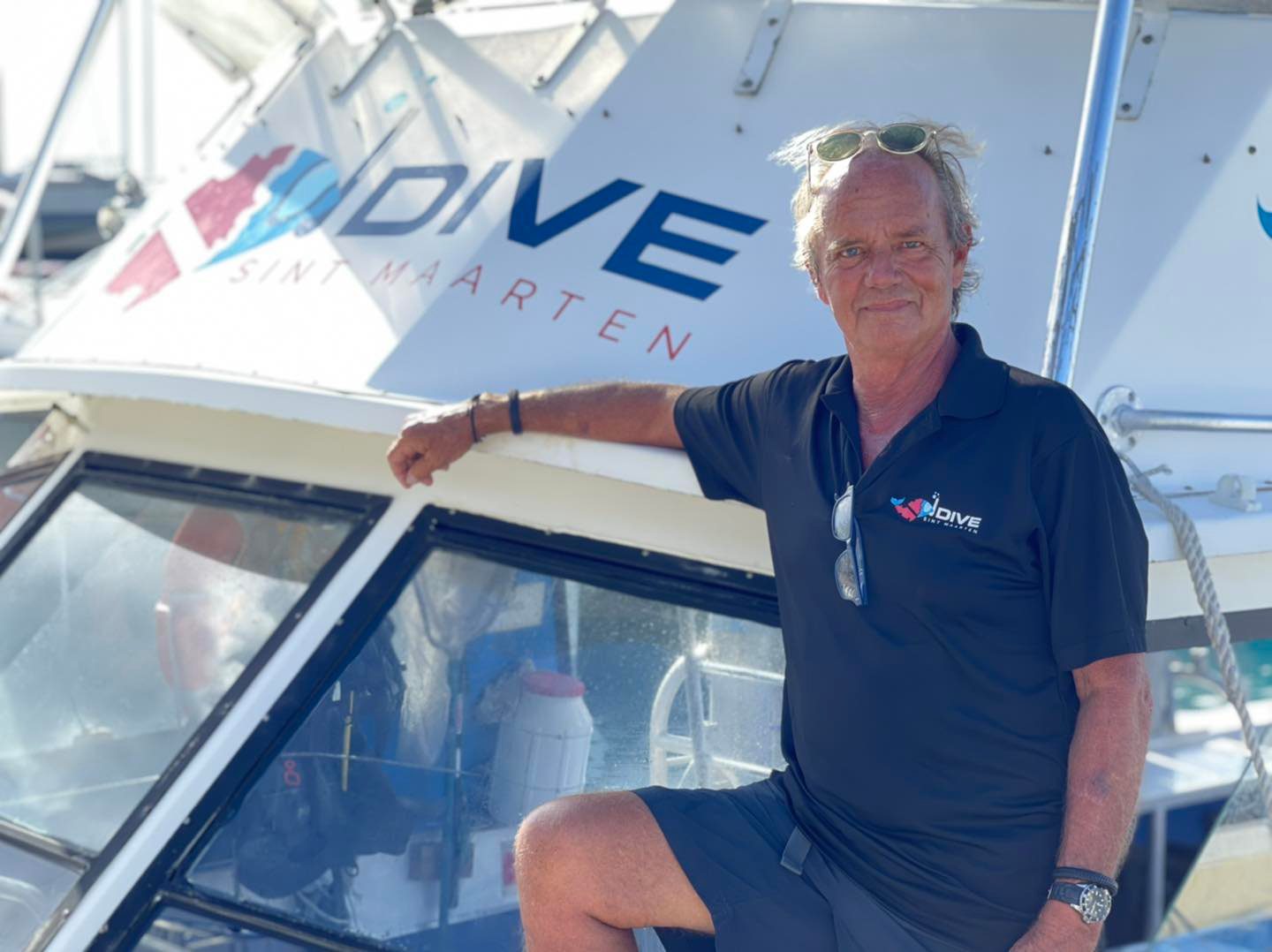 Chances are, if you've dived with us here at Dive Sint Maarten, that you've had the chance to meet Robyn. She's officially titled as the shop manager, but technically she does much more! In between managing all the bookings, she handles the shop administration, merchandise and most importantly…customer service.
Born and raised in Curacao, Robyn is the daughter of Dive Sint Maarten owner Captain Willem. With a love of water from a young age, she got her PADI certification when she was 12 and has been hooked ever since. By the age of 12 Robyn had moved to the big city of Amsterdam where she rounded off her education and as an adult started a career as an air hostess aboard Air Transavia. While this adventure captured her attention for seven years, her heart belonged to the islands and Robyn made her way to St. Maarten with her then partner (now husband) where she spent some time dedicating her life to nonprofit animal rescue organizations. While volunteer work is still her passion, she wasn't able to stay away from the ocean for too long, and when the opportunity arose to join Willem at Dive Sint Maarten she jumped at the chance. Want to go diving, stop by and join Robyn for a cup of coffee or give her a call…she will get you sorted for diving, courses or even some great tips on how best to enjoy the island!
Coming from a little country, that packs a punch, called Belgium. Famous for its beers, fries, chocolate and waffles.
Tim now at the age of 40 started his diving career about 15 years ago on a small island called Koh Mak while he was backpacking for the first time through Thailand. He got bitten by the travel bug and moved to Australia to work as a winemaker for the next 3 years while diving the great barrier reef on his time off. After his time in Australia he moved to Thailand to become a tour guide for Fox Reizen and in the meantime received his Advanced Open Water on that same small island called Koh Mak. While diving all the great spots in Asia like Philippines, Indonesia, Cambodia, Fiji, Tonga, Maldives, Sri Lanka, etc.. He gained a lot of experience as a diver and decided it was time for a career switch so he moved back to Belgium to gradually become a PADI Instructor while diving and teaching in cold and murky waters.
His first real job in the dive Industry started in Turks and Caicos where he resided for allmost 3 years, gained a lot of experience in guiding, teaching and working on boats. On his free time he volunteered for the TCI Reef Fund and learned a lot about marine life, coral conservation and restoration, moorings, etc.
After 3 years in Turks and Caicos he decided it was time for a change of scenery and applied for a job with us, Dive Sint Maarten. Tim's been on our team for a year now and we are pleased to have him. In the meantime, he also became a bauer compressor and scubapro technician.
In his spare time, Tim enjoys reading, relaxing on the beach, sipping cold beer and dancing through the night. His motto 'Work Hard, Play Harder'.
Fun Fact: Tim is the best at telling the worst dad jokes ever. So pay attention after the breifings for a good laugh.
Now 25, Natalie started diving at 16, in a cold dark lake in Virginia. She got certified as a marine biologist.
In 2019 she earned her Bachelor's degree from William and Mary, Virginia. and after graduation drove 16 hours to Florida where she received PADI instructor certification.
Her passion in Marine Biology and has spent quite some time doing research for a dolphin communication project in Florida and in Bimini, The Bahamas.
In 2020 she was about to move to Hawaii to start her career as a dive instructor, but due to covid-19, had to stay behind in Virginia Beach. She then became a dive instructor at the very same store she received her Open water certification when she was 16. She dove in the dark lake for about a year and a half until she found the opportunity to move to the Caribbean where she became a Dive instructor here at Dive Sint Maarten.
In her free time, she enjoys long walks on the beach, hiking, writing, and reading but her biggest passion is diving and under water sea life.